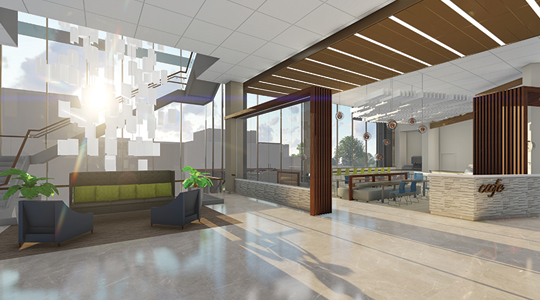 Project Overview
The new Dunlap Family Outpatient Center will deliver the best in modern medicine, along with the convenience of a one-stop health care facility. Plans for the new Center consist of a six-story, 280,000-square-foot building. The vision is to offer patients one easily accessible building for everything from doctors' appointments and tests to prescriptions and outpatient procedures.
We envision that the Dunlap Outpatient Center will include the following:
Outpatient Surgery Center
Physical Therapy
Outpatient Pharmacy
Lab/Phlebotomy
Diagnostic Imaging
Endoscopy Center
Cardiac Diagnostic
Orthopedic Surgery
Heart & Vascular
Urology
Plastic Surgery
Ophthalmology
Cancer Center
General Surgery
Colorectal Surgery
A major expansion such as this creates opportunities for improvements.
Greater convenience
The Outpatient Center puts all outpatient services and procedures under one roof. The building is designed to include:
A floor that offers comprehensive diagnostic services, including lab, radiology, and medical imaging
A procedural floor offering 10 operating rooms for outpatient surgery
An endoscopy (GI) suite with six procedure rooms
A floor that houses clinical programs and multidisciplinary physician offices
Shared waiting space with multiple seating options
Designated family consultation space that's easily accessible
Greater functionality
The Outpatient Center will connect to the Hospital on two floors. As part of the project, we constructed a 420-space Employee Parking Garage in the rear of the campus, along with a central utility building to modernize campus infrastructure. Other improvements to functionality include:
OR suites designed to minimize steps for staff and increase efficiency
Centralized pre/post op rooms to support both OR and endoscopy suites
42 pre/post op private rooms to support family participation and acoustic security
Decentralized nursing care for greater patient interaction
Stairs in the central atrium to enhance visitor and staff flow
Greater safety
To create space for the new building and for added public safety, we realigned N. Wren Drive in Scott Township to better connect with Bower Hill Road and Firwood Drive. This realignment will decrease traffic congestion and improve pedestrian safety at one of the main intersections near the Hospital.