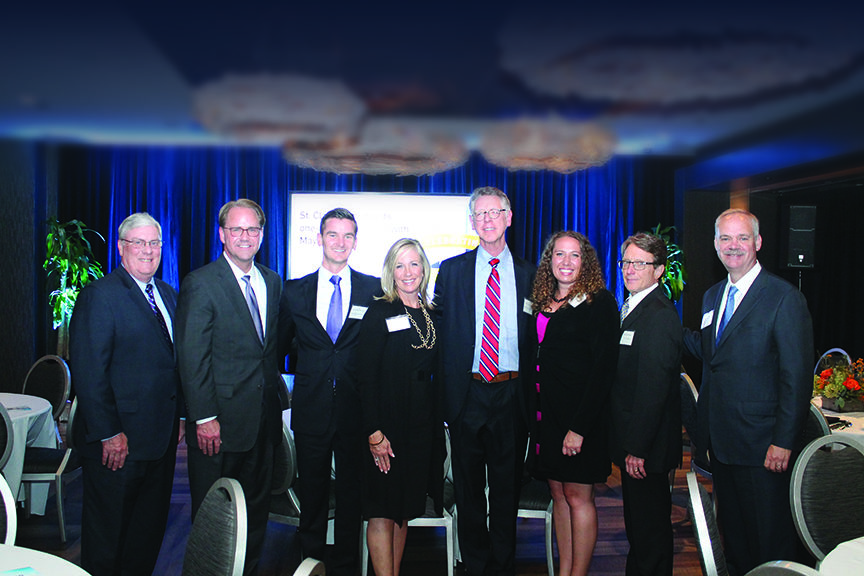 Learn More About The Collaboration
Few were more proud to join the Mayo Clinic Care Network than James M. Collins, president and CEO of St. Clair Hospital. In Mr. Collins' own words, "This clinical collaboration with Mayo Clinic — unique in western Pennsylvania — is rooted in our common philosophy. It will provide our physicians with the expertise of Mayo Clinic physicians to assist them as they treat challenging medical conditions, at no additional cost to patients or insurers."
So, how has becoming a member of a care network directly impacted the care being offered in Pittsburgh? As a new member of the care network, St. Clair Hospital has gained the ability to collaborate with entire teams of respected caregivers in the healthcare industry. Through the use of sophisticated technology, St. Clair physicians are now consulting directly with Mayo Clinic specialists about care options for patients with complex health conditions.
This means that if patients come to St. Clair Hospital with a complicated or rare illness, staff members at our Hospital have the ability contact Mayo Clinic's team of physicians through various tools and Network services. These resources provide St. Clair Hospital's staff with rapid, streamlined access to advanced expertise that can directly impact patient care for the better, by:
Accelerating patient healing and recovery
bringing a life-changing treatment to a chronically ill patient
validating or re-defining a diagnosis
fine-tuning clinical management to match the nuances of a complex disease
As a result of this collaboration, you can expect to see St. Clair enhance its clinical practices in every specialty and service, further elevating the quality of patient care and value. Clearly, St. Clair's clinical collaboration with Mayo Clinic has profound benefits for the Hospital physicians, staff, and its numerous specialty care departments. But there are benefits for Mayo Clinic as well, according to David L. Hayes, M.D., Medical Director of the Network.
"We applaud St. Clair's consistent and recognized excellence," he says. "St. Clair is helping us by making it possible for us to achieve our goal of serving more people. We want to develop stronger relationships with like-minded organizations so more people in more places can benefit from the specialty knowledge of Mayo Clinic. Additionally, Mayo Clinic has a long history of collaborating with other medical providers to provide the best possible care to patients. This is a great opportunity to work together."
Exploring The Mayo Clinic Care Network's Resources
At its core, this collaboration requires the ability for two or more specialists to connect quickly and easily. Technology has played a huge role in making this connection possible, and has ensured that numerous options are available for St. Clair staff members to use. As a member of the Mayo Clinic Care Network, St. Clair physicians now have access to vital Mayo Clinic services and information, including:
 eConsults: eConsults give St. Clair's specialists the ability to connect with Mayo Clinic's specialists on patient care. The request, with pertinent medical records, is posted through a confidential portal, and the electronic "consultation" is then scheduled into a Mayo Clinic specialist's calendar for review and response.
eTumor Boards: eTumor Boards are live video conferences that allow physicians to present and discuss management of complex cancer cases with a Mayo Clinic multidisciplinary team and other members of the Mayo Clinic Care Network.
AskMayoExpert: AskMayoExpert contains the latest Mayo Clinic-vetted information for use at the point of care and provides quick insight on disease management, care guidelines, treatment recommendations and reference materials. All clinical staff, including nurses and other allied health professionals, have access to this resource.
Patient Education Materials: St. Clair has access to Mayo Clinic's patient education library, which features 2,500 pieces of patient education material in English and some in Spanish. The full library is available electronically.
Health Care Consulting: St. Clair has direct access to Mayo Clinic's best documented business and care practices, including clinical protocols and administrative expertise. Consulting opportunities allow St. Clair to learn from and implement integrated care and practice models.
Mayo Clinic Grand Rounds: Finally, St. Clair providers have access to Mayo Clinic Grand Rounds — presentations by Mayo Clinic physicians and scientists who share health care successes, challenges and context on the science of health care delivery.
Looking for more information about this new collaboration? You can read about the impact it has had for staff members by downloading our Fall 2016 edition of HouseCall magazine.