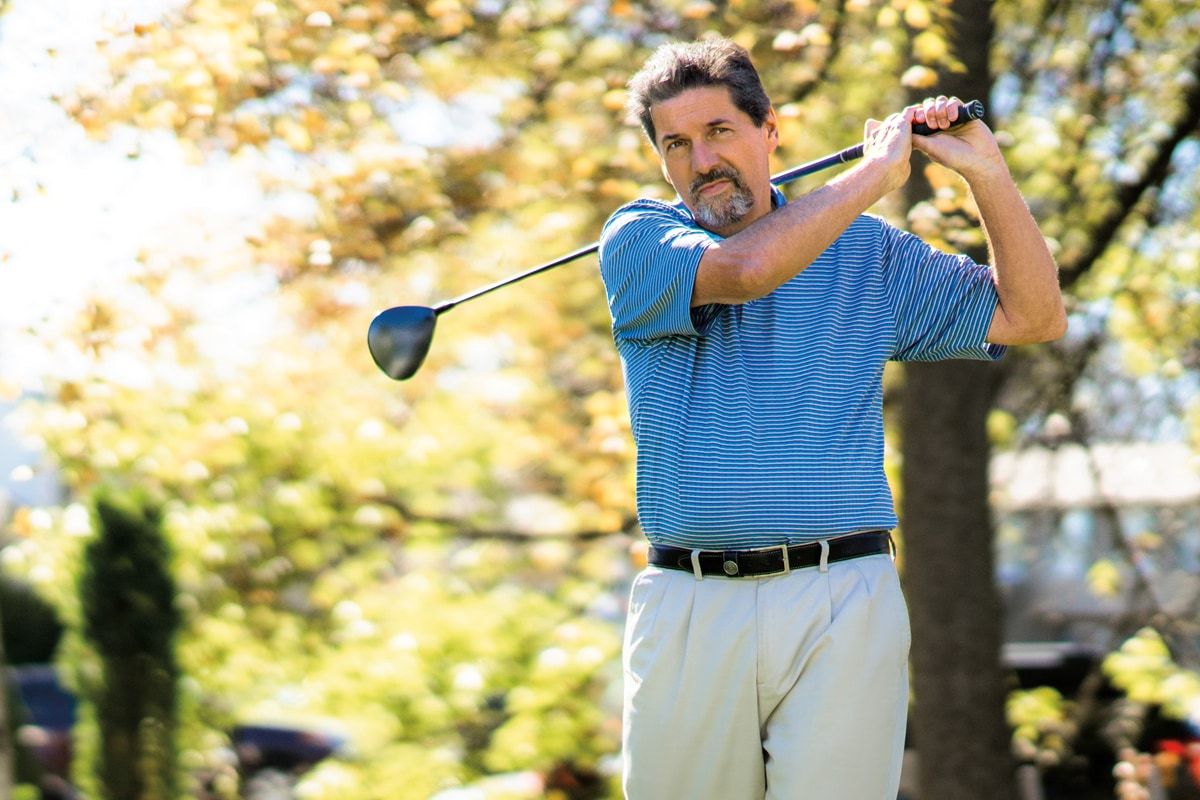 Tom Ferrante: Enjoying every single day
Tom Ferrante, 67, of Bethel Park, and his best friend, John, are former co-workers and golf buddies, with a solid, comfortable friendship that has lasted 40-plus years. When Ferrante learned earlier this year that he had prostate cancer, he turned to John, who had been successfully treated for the exact same type of prostate cancer not long ago. John provided advice and support, and most importantly, a referral to an exceptional surgeon: Kevin P. Bordeau, M.D., a board-certified urologist at St. Clair Hospital.
"I was getting the recommended screenings, and in February of 2020 my PSA (prostate-specific antigen*) level went up to 7.2. The acceptable range is 0 to 3, so this was a red flag. I was fortunate to get an appointment with Dr. Bordeau quickly, and he explained to me that an elevated PSA doesn't automatically mean you have cancer. But a low PSA doesn't mean that you don't have cancer – and the only way to know with certainty is to have a biopsy. My biopsy was positive for cancer, so my wife, Diana, and I met with Dr. Bordeau together and he laid everything out for us. He explained the options, the pros and cons, and the procedures in detail. It came down to a choice between radiation therapy, five days a week for nine weeks, or robotic-assisted prostate surgery. His recommendation was surgery, and I agreed."
Ferrante's surgery was scheduled for late March, but there was an unexpected glitch when Diana, who is also retired, experienced a COVID- 19 exposure and developed symptoms. She ultimately tested negative, but the surgery had to be delayed and finally took place on May 1 at St. Clair. Ferrante felt confident about his surgeon and the Hospital. "Dr. Bordeau is very impressive, on every level – his credentials, his bedside manner and his straightforward way of communicating with us," Ferrante says. "I knew that John had an excellent experience with him. I had been treated at St. Clair in the past, for atrial fibrillation, and I had only positive feelings about the Hospital."
The surgery went flawlessly, and Ferrante says he had virtually no pain post-operatively. "There was a little discomfort, but nothing bad enough that I needed pain medication. I spent one night in the Hospital and I recovered quickly at home. The technology that makes robotic-assisted surgery possible is amazing. It's less invasive, there's very little bleeding and you heal quickly."
Dr. Bordeau performed a robotic prostatectomy with nerve monitoring, meaning that he was able to protect and spare the nerves that are responsible for bladder control and erections. "Tom's was a localized cancer, which we were able to take care of with surgery; he did extremely well and did not need chemotherapy or radiation. I do a lot of prostate surgery (St. Clair's prostate cancer program is a leader in the region) and nerve monitoring is well worth it. It only adds a few minutes to the procedure. It gives the patient the best possible opportunity to get urinary control and erections back. It makes a big difference to the patient. The fear of losing these functions can keep men from getting the care they need.
"The most important issue in prostate cancer is early detection, with PSA screening. In the past, this was controversial, before we realized that some slow-growing prostate cancers can be watched with active surveillance for 10-15 years. It has to be individualized: you can be 70 and live to be 90 with a slow growing cancer. We can also get more aggressive with cancers that may affect life expectancy; those must be treated."
Since the surgery, Ferrante has been monitored with regular PSA testing and the results are consistently "undetectable." "Dr. Bordeau got all the cancer; my bone and body scans are negative. I had a far better outcome than I expected. I have complete recovery of urinary and sexual function. For a few months, I experienced occasional leakage, but it was just an inconvenience and it has resolved completely." Ferrante encourages his friends to follow the recommendations for PSA testing.
"I never had any symptoms. We wouldn't have found the cancer this early if I had not been getting PSA testing. I encourage all my friends to get their screenings – don't put it off, because it can save your life."
Now, with a clean bill of health, Ferrante is on the threshold of a major life change as he and Diana prepare for a move to Houston. Their daughter, Kelly, 29, an elementary school teacher there, is getting married in July and Ferrante is looking forward to walking his daughter down the aisle. "Kelly loves it there, and Diana and I love visiting, so we've decided to relocate there. The cancer experience is a journey, and it's been daunting, but I had tremendous trust in Dr. Bordeau. He eased my mind and made me feel so comfortable. If this happens to you, I highly recommend him."
Ferrante says that he is as good as ever now, making plans for the future and feeling excited about the wedding this summer. He's enjoying every single day, and is eager to get back on the golf course with his good friend, John.
* A PSA blood test measures a protein, normally produced by the prostate, which can be elevated in the presence of prostate cancer. It is a non-specific test, however, that can also indicate infection, inflammation or benign prostate enlargement.
KEVIN P. BORDEAU, M.D.
Dr. Bordeau specializes in urology. He earned his medical degree at Tufts University, Medford, Mass., and completed a residency at Eastern Virginia Medical School, Norfolk. Dr. Bordeau is board-certified in urology. He practices with St. Clair Medical Services.
To contact Dr. Bordeau, please call 412.572.6194.